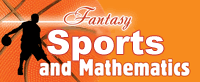 Fantasy Sports and Mathematics is an innovative series that uses real-world sports data to help students learn math. Designed for grades five and up, each program includes a resource guide for parents and teachers and a student workbook. For more information, visit the official site at www.fantasysportsmath.com.

Save 20% on any title in the Fantasy Sports and Mathematics series!
To save, enter code aff20 in the Promotion Code field when prompted during checkout and click the Apply Discount button.

Fantasy Baseball and Mathematics: A Resource Guide for Teachers and Parents, Grades 5 and Up
By Dan Flockhart
Paperback, March 2007
US $24.95

A great new way to get all kids excited about math!

Fantasy sports are a hit worldwide, and now teachers and parents can take advantage of this phenomenon to give students a reason to look forward to doing math. The games and activities in Fantasy Baseball and Mathematics will get kids excited about learning and practicing math, even if they're not big sports fans. With this fun-filled educational resource, you can teach one math concept or many, Read More
Fantasy Football and Mathematics: A Resource Guide for Teachers and Parents, Grades 5 and Up
By Dan Flockhart
Paperback, March 2007
US $24.95

A great new way to getall kids excited about math!

Fantasy sports are a hit worldwide, and now teachers and parents can take advantage of this phenomenon to give students a reason to look forward to doing math. The games and activities in Fantasy Football and Mathematics will get kids excited about learning and practicing math, even if they're not big sports fans. With this fun-filled educational resource you can teach one math concept or many, and Read More
Fantasy Basketball and Mathematics: A Resource Guide for Teachers and Parents, Grades 5 and Up
By Dan Flockhart
Paperback, March 2007
US $24.95

A great new way to getall kids excited about math!

Fantasy sports are a hit worldwide, and now teachers and parents can take advantage of this phenomenon to give students a reason to look forward to doing math. The games and activities in Fantasy Basketball and Mathematics will get kids excited about learning and practicing math, even if they're not big sports fans. With this fun-filled educational resource, you can teach one math concept or many Read More
Fantasy Soccer and Mathematics: Student Workbook
By Dan Flockhart
Paperback, March 2007
US $9.95

"Flockhart's books make math fun again. Teachers, students, and parents will love this program."
--Jeffrey R. Thomas, founder and CEO, SportsBuff.com;president, Fantasy Sports Trade Association

This workbook is designed to be used in conjunction with Fantasy Soccer and Mathematics: A Resource Guide for Teachers and Parents. The games and activities in Fantasy Soccer and Mathematics were created to get you excited about learning and practicing math, Read More
Fantasy Baseball and Mathematics: Student Workbook
By Dan Flockhart
Paperback, March 2007
US $9.95

"Flockhart's books make math fun again. Teachers, students, and parents will love this program."
--Jeffrey R. Thomas, founder and CEO, SportsBuff.com;president, Fantasy Sports Trade Association

This workbook is designed to be used in conjunction with Fantasy Baseball and Mathematics: A Resource Guide for Teachers and Parents. The games and activities in Fantasy Baseball and Mathematics were created to get you excited about learning and practicing math Read More
Fantasy Football and Mathematics: Student Workbook
By Dan Flockhart
Paperback, March 2007
US $9.95

"Flockhart's books make math fun again. Teachers, students, and parents will love this program."
--Jeffrey R. Thomas, founder and CEO, SportsBuff.com;president, Fantasy Sports Trade Association

This workbook is designed to be used in conjunction with Fantasy Football and Mathematics: A Resource Guide for Parents and Teachers. The games and activities in Fantasy Football and Mathematics were created to get you excited about learning and practicing math Read More
Fantasy Basketball and Mathematics: Student Workbook
By Dan Flockhart
Paperback, March 2007
US $9.95

"Flockhart's books make math fun again. Teachers, students, and parents will love this program."
--Jeffrey R. Thomas, founder and CEO, SportsBuff.com;president, Fantasy Sports Trade Association

This workbook is designed to be used in conjunction with Fantasy Basketball and Mathematics: A Resource Guide for Teachers and Parents. The games and activities in Fantasy Basketball and Mathematics were created to get you excited about learning and practicing Read More
Fantasy Soccer and Mathematics: A Resource Guide for Teachers and Parents, Grades 5 and Up
By Dan Flockhart
Paperback, March 2007
US $24.95

A great new way to get all kids excited about math!

Fantasy sports are a hit worldwide, and now teachers and parents can take advantage of this phenomenon to give students a reason to look forward to doing math. The games and activities in Fantasy Soccer and Mathematics will get kids excited about learning and practicing math, even if they're not big sports fans. With this fun-filled educational resource, you can teach one math concept or many, and Read More