Leverage Leadership: A Practical Guide to Building Exceptional Schools
by Paul Bambrick-Santoyo, Doug Lemov (Foreword by), Brett Peiser (With)
US $34.95

What sets exceptional school leaders apart? In Leverage Leadership, Paul Bambrick-Santoyo demonstrates that transformational leaders succeed because of how they use their time: what they do, and how and when they do it. Read more and discover his seven core principles of effective leadership.

Essential Survival Tools for New and Experienced Teachers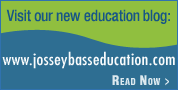 Bestselling Titles in
Education K-12 General

Teaching As Leadership: The Highly Effective Teacher's Guide to Closing the Achievement Gap
by Teach For America, Steven Farr, Jason Kamras (Foreword by), Wendy Kopp (Afterword by)

The Bee Eater: Michelle Rhee Takes on the Nation's Worst School District
by Richard Whitmire

21st Century Skills: Learning for Life in Our Times
by Bernie Trilling, Charles Fadel

Education Nation: Six Leading Edges of Innovation in our Schools
by Milton Chen, George Lucas (Foreword by)

Because Writing Matters: Improving Student Writing in Our Schools, Revised Edition
by National Writing Project, Carl Nagin

Teaching with Fire: Poetry That Sustains the Courage to Teach
by Sam M. Intrator (Editor), Megan Scribner (Editor)

How to Reach and Teach Children with Challenging Behavior (K-8): Practical, Ready-to-Use Interventions That Work
by Kaye Otten, Jodie Tuttle

Making Thinking Visible: How to Promote Engagement, Understanding, and Independence for All Learners
by Ron Ritchhart, Mark Church, Karin Morrison